You can use healthy substitutions to reduce salt and saturated fat and boost fiber content to make your favourite recipes healthier. The table below gives alternatives for some common ingredients found in recipes.
| | |
| --- | --- |
| If a recipe calls for this: | Try using this: |
| Breadcrumbs, dry | Rolled oats or crushed bran cereal |
| Butter, margarine, shortening or oil in baked goods | Applesauce, mashed bananas or mashed sweet potato thinned with water can be substituted for half the butter, shortening or oil. |
| Eggs | 2 egg whites for each whole egg |
| Flour, all-purpose (plain) | Whole wheat flour for half of the flour |
| Meat | Substitute vegetables for half of the meat called for in casseroles, soups and stews |
| Milk, full cream | Low fat or skim milk |
| White pasta | Whole wheat pasta |
| Parboiled rice | Brown rice, quinoa, bulgur wheat or pearl barley |
| Sour cream | Plain low fat yogurt |
Below are some healthy alternative snacks and treats that you might like to try.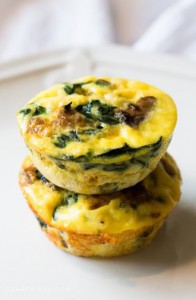 CRUSTLESS MINI QUICHES
(These quiches freeze well and make a great snack or breakfast in a hurry.) 
Ingredients
2 tsps cooking oil
½ onion finely chopped
½ sweet pepper, finely chopped
1 ½ packed cups young bhaji or spinach, chopped
½ cup grated cheddar cheese
5 eggs
1 ¼ cups low fat evaporated milk
Method
Pre-heat oven to 350F.
Heat oil in frying pan and fry onion over medium heat for 2 minutes, add sweet pepper and continue to sauté for one minute. Finally add bhaji and fry a further minute.
Beat the eggs and milk and stir in the cheese.
Grease a 12-cup muffin tray or fill with muffin cases.
Add the vegetable mixture to the base of each muffin tin.
Pour the egg mixture into each muffin cup.
Bake for 25 mins until set and golden.
Allow to cool for 10 minutes before removing from the tin.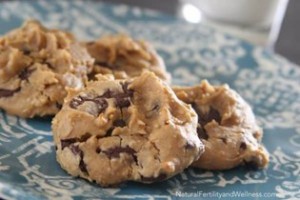 2. High Protein CHOCOLATE CHIP COOKIES
Ingredients
1 ¼ cups channa, cooked and rinsed (tinned is fine)
½ cup chocolate chips or raisins
2 tsp vanilla extract
½ cup peanut butter (use crunchy peanut butter if you want more texture)
¼ cup honey (or brown sugar mixed with 2-3 tbsps milk)
1 tsp baking powder
Pinch sea salt
Method
Preheat oven to 350F.
Blend all but the chocolate chips or raisins in a food processor or blender until smooth.
Stir in chocolate chips or raisins until well mixed.
Drop tablespoons onto a greased baking sheet.
Bake for 12-15 minutes or until slightly browned.
3. Three- INGREDIENT BANANA OAT COOKIES
Ingredients
1 cup quick oats
1 large overripe banana (mashed to a liquid-like consistency)
½ cup raisins (you may substitute chocolate chips or chopped peanuts)
Method
Pre-heat oven to 350F. Grease baking sheet.
In a large bowl mix oats and mashed banana. Mix with a fork until it becomes an evenly mixed thick batter. Add raisins.
Make 8 round balls out of the cookie batter. Gently press down on each ball so that it flattens into a round disc.
Place onto the baking sheet, spacing about 2 inches apart.
Bake for about 15 minutes or until cookies are lightly brown and set. Let cool before eating and store in fridge.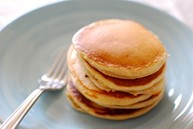 4. GREEK YOGURT PANCAKES
Pancakes can be had with fruit and or fruit reductions
Ingredients
¾ cup low fat plain Greek yogurt
1 egg
½ cup flour
1 tsp baking soda
Method
In a small bowl stir yogurt until smooth.
Add egg and stir to combine.
In another bowl mix flour and baking soda.
Pour yogurt and egg mixture into the flour and baking soda and stir. Batter will be very thick.
Spoon the batter onto a non-stick (or lightly greased) pan heated to low-medium.
Flip the pancakes when they start to bubble on the surface. Cook until golden brown on both sides.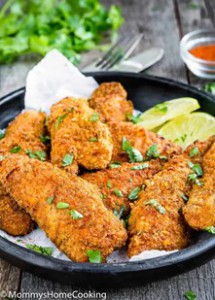 5. OVEN FRIED CHICKEN
Ingredients
1 lb chicken drumsticks
1 cup low fat yogurt
1 cup cornflakes
1 cup biscuit crumbs (seasoned with salt and pepper)
1 tablespoon garlic powder
1 teaspoon black pepper
1 teaspoon paprika
¼ teaspoon ground chili pepper
Oil cooking spray.
Method
Remove skin and fat from drumsticks.
Dip the chicken in yogurt and let soak for at least an hour or overnight.
Place cornflakes, breadcrumbs, garlic powder, paprika, black pepper and chili pepper into a food processor and pulse until well combined. Alternatively crush the corn flakes with a rolling pin and mix well with the other ingredients.
Pre-heat oven to 450F.
Remove chicken from the yogurt.
Place breadcrumb mixture on a plate and dip each chicken drumstick into the mixture. Press down firmly so the breadcrumb mixture sticks to the chicken.
Place the chicken on a lightly oiled pan. Spray the top of the chicken well with the cooking spray.
Bake the chicken until done, about 35 minutes, flipping it halfway through so they are crispy on both sides. Exact cooking time will depend on the size of your chicken pieces.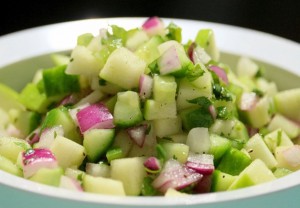 6. CUCUMBER & GREEN APPLE CHOW
Ingredients
2 peeled cucumbers, sliced
2 peeled and sliced green apples
3-5 leaves shadon beni
2 minced garlic cloves
Salt and pepper to taste
1 tsp lime juice or vinegar
Method
Peel and cut cucumbers and slice apple
Chop shadon beni leaves.
Mince garlic. Mix all ingredients
Let stand for 15-30 minutes for flavours to blend.
Serve chilled.